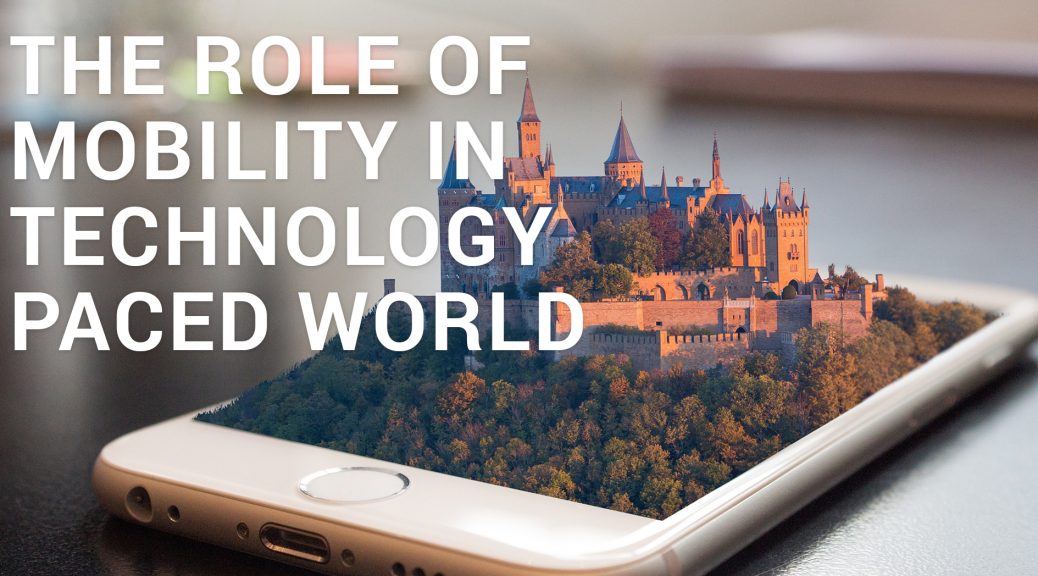 The Role Of Mobility In Technology Paced world
The Role Of Mobility In Technology Paced world
Mobile has become an integral part of the present world. In fact, on an average, a person spends 2.7 hours/ day socializing on their mobile devices. Enterprise mobility is the number one key playing a significant role for large as well as small businesses.Organizations give a great priority in the need to mobilize their workforce, their websites, and all other services. The perceived needs for enterprise mobility themselves are constantly evolving, even though it is a relatively new topic. Next Technology aims to build a community within organizations for those interested in the strategies behind managing the mobility solutions.
As businesses are disrupted by the wave of digital transformation, each day the outlook of almost every industry is evolving increasingly different than the one we were all familiar with. Enterprise mobility is a red hot term these days. Companies use this very prudent and innovative way to improve their operations and logistics to give them a leap beyond their competitors. Changes are inevitable and are very much essential and the companies now are always looking for new ways to improve their business processes, are the ones that flourish. There are two methodologies in the enterprise technology industry that are showing great future in positioning organizations for the digital wave. These two technologies are mobile and BPM (Business Process Management and Rules).
The key stream for the engagement of employees and customers is through mobile devices. A digital generation is entering into the business world that has been reared on mobile technologies. This itself proves that every tech industry needs a custom made mobile technology to make a major leap from their current position. Being updated with the ever changing technology can bring about a major difference, that is always inevitable.
HOW MOBILITY IS CHANGING THE ENTERPRISE
Mobile applications for business purposes not only offer new methods for businesses to expand their present range but also to engage with their workforce and services. Thus mobile apps provide a ripple effect on business as usual and prompt the guides or managers to rethink and streamline their business processes. Further automation can add up tremendous value in business processes by opting the best mobile solutions and, in some instances, mobile applications can redefine business models in many different ways. Whatever be your need, whether you need an application for your engineers to be alerted to problems in a more organized manner, or whether your sales reps need to be able to close deals at the point of sale, or if you're a retail company and need to tap into mobile consumers, you will need to consider how mobile apps and business processes can work in tandem to deliver better business outcomes. Mobile applications are not just about automating an existing process and making it available through the mobile channel. Mobile applications simply provide the best way that offers a way to think outside the box and invent processes or methods that deliver more value within a short period of time.
However, it is only half the battle to decide that you need to develop a mobile application. Developing an application is a much more tedious process and goes deeper wide than just the user experience or the end product that you see on the screen. For developing an application, it is essential to have a team of skilled IT developers in order to get the job done precisely with all the ideas inbuilt. However, today mobile solutions are in high demand since there is a scarcity of talent qualified to do the job. This is the context where a low-code tool comes in handy, not only for mobile app development but also for configuring and adapting the latent business processes. Low code BPM tools, on the other hand, help business analysts automate and adapt business processes to easily monitor the changing rules and demand patterns.
The simplicity of mobile apps allows lines of business to help design and create their schedules without getting overwhelmed with the management aspects. They enable staffs to compose or configure their service area more precisely rather than creating more complex tasks that require much more time, and as such are sometimes a real boon to the large as well as small industry. This not only gives freedom to manage the workforce and to have done all the services without any fail without much manual intervention. Moreover, mobile app development process needs more fluent discussion between LOB and IT employees on what their mobile direction should be.
The underlying target for most mobile solutions is not to recreate the usual wheel, it's rather to implement an application that can entirely bring about a better transformation and improve the quality of underlying business processes.
MOBILITY SOLUTIONS IN SOFTWARE INDUSTRIES
Companies whether it provides retail, financial or technical services, everyone needs a work place that is technically sound or we can say that that the company needs to have a powerful system that automates process and that makes overall working experience a better one.  Employees are increasingly demanding a mobile-friendly workplace that supports them to a greater extent — just like their customers want mobile solutions for their different purposes. Customers mainly opt financial services that support mobile transactions which save their time and makes their work easier, likewise in all other fields of life too people opt the best choice.
But many companies and other providers have been known to resist this new workplace requirement of employees. Some of the management concerns are huge, even though they are small and mid-sized organizations. Choosing the best technology providers who can handle all this major concern is again the harder task. Next technology guarantees our clients that we together work as a team giving more importance for the client's idea and needs. A satisfied client is always the target when we opt for creating a mobile app.
Mobility in the present world of marketing increased business efficiencies to a great extent. Additionally, companies need to recruit and retain talented, tech professionals, Next Technology have a highly talented team . Younger workers continue to favor the work place that nurtures communication and collaboration via tablets and mobile phones.
Due to bring-your-own-device policies and the Internet of Things, The number of digital devices connected to an enterprise network is increasing. And likewise, without proper network strategy to support mobile devices, the efficiency and experience benefits of mobility won't be achieved and thus yield the best out of every enterprise.